Σκι σε Austria
Austrian ski areas closing dates 2022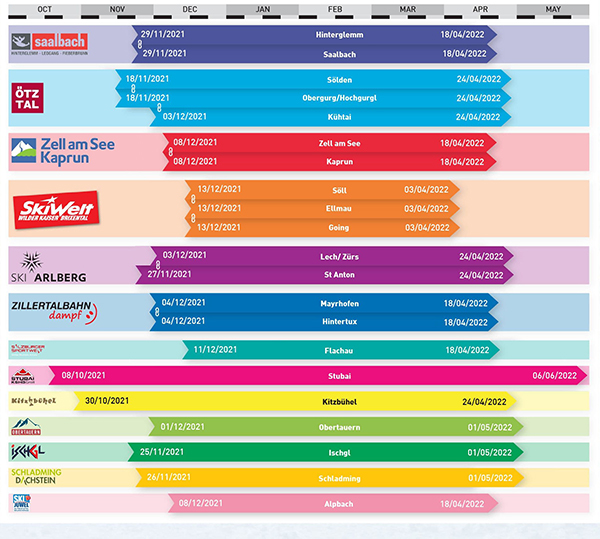 Austria: πρόσφατες συνθήκες χιονιού
Summary of forecast snowfall and ski conditions for resorts in Austria. Fresh snow is forecast at 31 resorts. Powder is reported at 0 resorts and 0 are reporting good piste conditions.
Πρόσφατες αναφορές για Austria
Ραντάρ παρατήρησης καιρού:

Snowing heavily above Heiligenblut.

Ραντάρ παρατήρησης καιρού:

Light snow is falling on the slopes above Heiligenblut.
Ski resorts in Austria from N to Q
Χιονοδρομικό

χιόνι
κορυφής και βάσης

εντός πίστας

εκτός πίστας

τελευταία χιονόπτωση

επόμενες 9 μέρες
0–3 | 3–6 | 6–9
snow (

cm

)
Πρόγνωση καιρού για τις επόμενες 5 μέρες.
Επίπεδο παγοποίησης (

m

)
Wed
Thu
Fri
Sat
Sun

Nagelköpfl – Piesendorf

(785 m — 900 m)

opens in 129 days

2

cm




στις 10 Apr

Ενδιάμεσος σταθμός

842

m

3650

 

m

3650

 

m

3150

 

m

3150

 

m

3750

 

m

Nassfeld

(610 m — 2019 m)

opens in 122 days

3

cm




73 μέρες πριν

Ενδιάμεσος σταθμός

1314

m

3500

 

m

3450

 

m

3100

 

m

3050

 

m

3550

 

m

Nauders

(1400 m — 2850 m)

opens in 122 days

2

cm




46 μέρες πριν

Ενδιάμεσος σταθμός

2125

m

3800

 

m

3800

 

m

3400

 

m

3250

 

m

3950

 

m

Nesselwaengle/Krinnenalpe

(1127 m — 1800 m)

opens in 129 days

1

cm




72 μέρες πριν

Ενδιάμεσος σταθμός

1464

m

3900

 

m

3750

 

m

3200

 

m

3250

 

m

3950

 

m

Nesselwängle

(1133 m — 1563 m)

Ενδιάμεσος σταθμός

1348

m

3900

 

m

3750

 

m

3200

 

m

3250

 

m

3950

 

m

Neukirchen/Altmünster/Hochlecken

(870 m — 1150 m)

Ενδιάμεσος σταθμός

1010

m

3650

 

m

3500

 

m

2950

 

m

3100

 

m

3450

 

m

Neukirchen/Bramberg-Ski-Arena Wildkogel

(730 m — 2100 m)

opens in 128 days

2

cm




61 μέρες πριν

Ενδιάμεσος σταθμός

1415

m

3700

 

m

3700

 

m

3150

 

m

3150

 

m

3800

 

m

Neustift

(1000 m — 3250 m)

opens in 129 days

8

cm




11 μέρες πριν

Ενδιάμεσος σταθμός

2125

m

3800

 

m

3750

 

m

3150

 

m

3150

 

m

3900

 

m

Niederau - Wildschonau

(1010 m — 1600 m)

Ενδιάμεσος σταθμός

1305

m

3850

 

m

3700

 

m

3100

 

m

3150

 

m

3800

 

m

Nordkette

(859 m — 2260 m)

opens in 115 days

2

cm




61 μέρες πριν

Ενδιάμεσος σταθμός

1560

m

3800

 

m

3750

 

m

3150

 

m

3150

 

m

3900

 

m

Obdach

(899 m — 1199 m)

Ενδιάμεσος σταθμός

1049

m

3150

 

m

3150

 

m

2900

 

m

3000

 

m

3450

 

m

Oberau

(936 m — 1200 m)

Ενδιάμεσος σταθμός

1068

m

3850

 

m

3650

 

m

3100

 

m

3100

 

m

3800

 

m

Obergurgl

(1800 m — 3080 m)

opens in 99 days

2

cm




11 μέρες πριν

Ενδιάμεσος σταθμός

2440

m

3850

 

m

3750

 

m

3300

 

m

3200

 

m

3900

 

m

Oberperfuss

(820 m — 1999 m)

opens in 122 days

4

cm




72 μέρες πριν

Ενδιάμεσος σταθμός

1410

m

3750

 

m

3750

 

m

3150

 

m

3150

 

m

3900

 

m

Obertauern

(1640 m — 2350 m)

opens in 99 days

2

cm




61 μέρες πριν

Ενδιάμεσος σταθμός

1995

m

3600

 

m

3400

 

m

2950

 

m

3050

 

m

3550

 

m

Obertraun

(608 m — 2100 m)

opens in 136 days

3

cm




71 μέρες πριν

Ενδιάμεσος σταθμός

1354

m

3600

 

m

3450

 

m

2900

 

m

3050

 

m

3500

 

m

Obsteig/Grünberg

(1000 m — 1500 m)

opens in 129 days

2

cm




στις 26 Apr

Ενδιάμεσος σταθμός

1250

m

3800

 

m

3800

 

m

3200

 

m

3200

 

m

3950

 

m

Ochsengarten

(820 m — 2200 m)

Ενδιάμεσος σταθμός

1510

m

3800

 

m

3800

 

m

3250

 

m

3200

 

m

3950

 

m

Oetz

(820 m — 2020 m)

opens in 122 days

2

cm




72 μέρες πριν

Ενδιάμεσος σταθμός

1420

m

3850

 

m

3800

 

m

3250

 

m

3200

 

m

3950

 

m

Palfau

(512 m — 1781 m)

Ενδιάμεσος σταθμός

1146

m

3450

 

m

3100

 

m

2800

 

m

3100

 

m

3400

 

m

Parfußwirtlifte Trahütten

(699 m — 1099 m)

Ενδιάμεσος σταθμός

899

m

3200

 

m

3100

 

m

2850

 

m

3000

 

m

3350

 

m

Partenen

(1051 m — 2030 m)

Ενδιάμεσος σταθμός

1540

m

3850

 

m

3800

 

m

3400

 

m

3300

 

m

4050

 

m

Patscherkofel

(1294 m — 2249 m)

opens in 129 days

1

cm




61 μέρες πριν

Ενδιάμεσος σταθμός

1772

m

3800

 

m

3700

 

m

3150

 

m

3150

 

m

3900

 

m

Pernitz/Unterberg

(710 m — 1342 m)

opens in 129 days

2

cm




στις 27 Apr

Ενδιάμεσος σταθμός

1026

m

3100

 

m

2950

 

m

2800

 

m

3050

 

m

3550

 

m

Pertisau am Achensee

(739 m — 1249 m)

opens in 129 days

2

cm




στις 25 Apr

Ενδιάμεσος σταθμός

994

m

3850

 

m

3650

 

m

3150

 

m

3150

 

m

3850

 

m

Pettneu

(1228 m — 2020 m)

Ενδιάμεσος σταθμός

1624

m

3900

 

m

3800

 

m

3300

 

m

3300

 

m

4000

 

m

Petzen

(700 m — 1900 m)

opens in 115 days

1

cm




72 μέρες πριν

Ενδιάμεσος σταθμός

1300

m

3300

 

m

3200

 

m

2950

 

m

3000

 

m

3400

 

m

Pillersee-Hochfilzen/Buchensteinwand

(855 m — 1456 m)

opens in 129 days

3

cm




στις 1 May

Ενδιάμεσος σταθμός

1156

m

3800

 

m

3550

 

m

3050

 

m

3150

 

m

3750

 

m

Pitztal Glacier

(1740 m — 3440 m)

opens in 45 days

5

cm




11 μέρες πριν

Ενδιάμεσος σταθμός

2590

m

3850

 

m

3750

 

m

3350

 

m

3250

 

m

3950

 

m

Planneralm

(1600 m — 2200 m)

opens in 115 days

9

cm




71 μέρες πριν

Ενδιάμεσος σταθμός

1900

m

3400

 

m

3300

 

m

2850

 

m

3000

 

m

3400

 

m

Präbichl

(1100 m — 1800 m)

opens in 115 days

2

cm




71 μέρες πριν

Ενδιάμεσος σταθμός

1450

m

3150

 

m

3100

 

m

2850

 

m

3000

 

m

3500

 

m

Prägraten am Großvenediger

(1312 m — 1490 m)

opens in 129 days

4

cm




στις 27 Apr

Ενδιάμεσος σταθμός

1401

m

3700

 

m

3650

 

m

3150

 

m

3150

 

m

3800

 

m

Pruggern

(681 m — 1977 m)

opens in 129 days

4

cm




71 μέρες πριν

Ενδιάμεσος σταθμός

1329

m

3500

 

m

3400

 

m

2900

 

m

3050

 

m

3450

 

m

Puchberg am Schneeberg/Salamander

(810 m — 1210 m)

opens in 129 days

13

cm




στις 20 Apr

Ενδιάμεσος σταθμός

1010

m

3150

 

m

3000

 

m

2800

 

m

3050

 

m

3550

 

m

Puchenstuben/Turmkogel

(870 m — 1150 m)

opens in 129 days

17

cm




στις 20 Apr

Ενδιάμεσος σταθμός

1010

m

3300

 

m

3000

 

m

2800

 

m

3050

 

m

3450

 

m