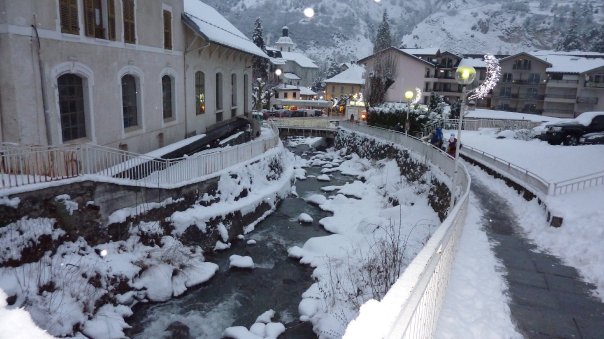 Δικαιώματα φωτογραφίας: Snow Forecast Admin
Επίσκεψη στο Brides Les Bains
Χρήσιμες πληροφορίες για το κέντρο που θα σας βοηθήσουν να προγραμματίσετε το ταξίδι σας στο Brides Les Bains
Εναρξη σεζόν

—

Λήξη Σεζόν

—

Διαμονή

—

Εστιατόρια | Μπαρ

10 | 7

Κοντινότερο Αεροδρόμιο

Geneva

Κοντινότερο τρένο

Moutiers

Iστοσελίδα
Τηλέφωνο εξυπηρέτησης

+33479552424
---
Παροχές στο Brides Les Bains
Η έκταση στο Brides Les Bains περιλαμβάνει::
Halfpipes

—

Πάρκα

2

Cross Country
Ενοικίαση Εξοπλισμού Σκι

—
Πώς είναι στο χιονοδρομικό κέντρο Brides Les Bains;
Brides Les Bains, in France (in the Savoie region and part of Les 3 Vallées), is a large resort with 48 lifts (including 18 chair lifts and 14 surface lifts) that offers skiers an incredible 2350 metres (7710 feet) of vertical descent. Brides Les Bains has 1270 acres of terrain over 77 pistes with a total length of kilometers (22 miles). Brides Les Bains is best suited to beginner skiers and snowboarders but there is some terrain for both expert and intermediates. There are 33 kilometers (21 miles) of cross country ski trails at Brides Les Bains. For snowboarders, there are 2 terrain parks. A small proportion of the pistes at Brides Les Bains are covered by snow-making. The closest airport is at Geneva but the transfer time is 2 hours. The nearest train station to Brides Les Bains is at Moutiers.
Εξερευνήστε τον χάρτη τοποθεσίας του Brides Les Bains
Διαδραστικός χάρτης μονοπατιών και πίστας Brides Les Bains. Προβάλετε την πίστα και τα μονοπάτια, καθώς και τα γύρω εδάφη και ορεινά περιγράμματα για δράση στην εξοχή. Βρείτε και συγκρίνετε κοντινά θέρετρα με κλικ στους δείκτες θέρετρου.

Brides Les Bains Live Weather
Resort
Υψος Χιονιού
Θερμ. (°

C

)
Ανεμος (

km/h

)
Καιρός
Top Lift:
Middle Lift:
Bottom Lift:
Τελευταία εικόνα της κάμερας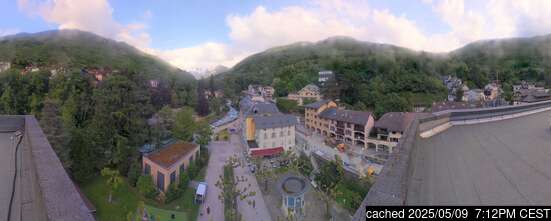 Ποιος είναι ο μήνας με το περισσότερο χιόνι στο κέντρο Brides Les Bains;
Δεκέμβριος
Μέσος όρος: 2.9 ημέρες με χιόνι ανά εβδομάδα
Η πιο χιονισμένη εβδομάδα στο Brides Les Bains είναι η 2 εβδομάδα του Δεκέμβριος. Υπάρχουν συνήθως 2.9 χιονώδεις ημέρες κατά τη διάρκεια αυτής της εβδομάδας με
40
cm
χιονόπτωσης. Δείτε τα παρακάτω γραφήματα του Ιστορικού χιονόπτωσης στο Brides Les Bains.
Κριτικές επισκεπτών για Brides Les Bains
Ο/η Kat από United Kingdom γράφει:
Just returned from a week's snowboarding over Christmas; booked with Direct Ski. Firstly, would definitely recommend them as a company. Excellent reps who went above and beyond to help (my luggage was lost by the airline, our rep, Lucy, sorted it all out for me, translated the French paperwork, contacted the airport and arranged for it to be couriered, providing regular updates by text & visiting our apartment with info and advice on buying essentials and contacting our insurance company. My luggage eventually arrived 4 days late but thanks to her excellent service it didn't put a downer on the holiday at all (she even lent me her own phone charger for the week so I could charge my phone and have it on the hill).
We stayed at Lagrange Residence Cybeles and it was a lovely apartment. When you only pay £350 for a week at Xmas (before lift pass) you could be forgiven for thinking you were going to be staying in a bit of a dump; not at all. The studio we stayed in was the perfect size for 2 people, was very warm and cosy and had everything we needed. I have seen a few reviews that have been negative regarding its location as you need to get the gondola up into Meribel to ski. For us it wasn't a problem at all. It's a 10min walk to the gondola, we never used the bus once although there is a free shuttle for those who maybe have kids or don't want to walk in ski boots. The gondola opened at 8.30am but most days they let you on early if you were there and we didn't queue once in the 6 days we were on the slopes. Yes, it takes 25 mins but it's a nice ride up and the main lifts in Meribel didn't open till 9am anyway so if you're one of these people who wants to be first on the slopes, staying in Brides doesn't impact on your ski time at all as actually, the timing works out perfectly.
Brides, itself, doesn't have a massive amount of shops etc (bit of a struggle when you have no luggage but then Meribel doesn't either (and what it does have is extremely expensive anyway). We ate several times at the restaurant opposite the apartments; lovely staff, very nice food although not a huge choice and reasonably priced; burger & chips for 10euro.
The apartments do have a pool and jacuzzi although we didn't actually use them; we attempted to once but with 6 adults already in the jacuzzi and a group of kids playing with a ball in the pool we walked straight back out again. The changing area was a bit dirty if I'm honest but many apartment blocks don't have those facilities so if you time it right you should be fine. As you need to take your shoes off at the door and place them in pigeon holes you can actually tell whether it's worth going to get changed by counting the pairs of shoes already there as that will tell you how many people are in!
We had a Xmas dinner at Hotel Verseau (top end of town) organised by Direct Ski. English run hotel, very nice traditional English Xmas dinner. We also ate once at a restaurant along the Main Street (can't remember its name but It has a pub attached to it and the sign outside actually says restaurant in vertical and pub in horizontal) - steak and chips for 14euro, again would recommend.
All in all, our stay in Brides was great. Yes, it would have been handier to be in Meribel but it also would have been a lot more expensive and probably a lot nosier/busier.
It's a great accommodation option if you don't want to pay over the odds for your holiday, prefer somewhere a bit quieter and don't mind being a little bit out the way. The staff were very friendly and helpful, reception isn't open all day every day but we never found that an issue. So far they haven't rung me to say I need to pay the cleaning charge so that's a bonus as I'd read about people saying they had been charged even though they felt they had cleaned it well enough.
All in all, a great holiday; visited all of the 3 valley resorts and never felt like we missed out on anything because we weren't on the doorstep of Meribel.
Διάβασε 16 κριτικές για Brides Les Bains η υπέβαλλε τη δική σου
Χιονοδρομικά κέντρα κοντά στο Brides Les Bains
Ανακαλύψτε χιονοδρομικά κέντρα κοντά στο Brides Les Bains. Κάντε κλικ παρακάτω για να δείτε οδηγούς για χιονοδρομικά κέντρα.